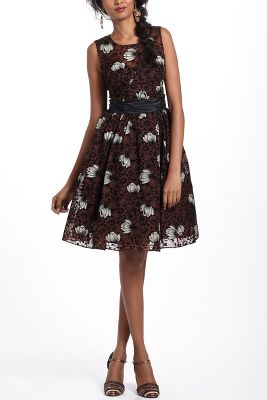 On sale $99.95 (originally $198)
www.anthropologie.com
On the left, I'm wearing a size 2, on the right a size 4.
Item: Chrysanthemum Tea Dress
Color: Brown motif
Price: On sale $99.95 (originally $198)
Size: 2 (left) and 4 (right)
Overall Rating: 5/5
When I first saw this dress, I loved everything about it. Beautiful print - check! Retro style - check! Fitted bodice - check! I initially tried on the size 2, which is my typical dress size. I was able to zip up the dress, but man oh man, I could hardly breath in it! The bodice was pushing into my ribcage and the armholes were so tight. I initially thought this was a result of the 10 more pounds of baby weight I have yet to lose, but after reading the other reviews online I decided to try the next size up. Ah, much better! The size 4 fit perfectly. None of the other dresses I own are a size 4 - all of them are either size 0 or 2, so I would say this dress definitely runs small. Size up at least one size for sure. What I love most about this dress is the retro fitted-bodice-and-flared-skirt silhouette. If I could dress like a 1950s housewife everyday I would. But alas, that's a very impractical style for where I work. Looking back at these photos, I feel that it actually doesn't look so bad with the ballet flats, which leads me to believe that this dress can be quite versatile when deciding what shoes to wear with it. Ultimately, though, I think I will wear it with a nice pair of high-heeled maryjanes. This dress is by far one of my favorites!