I was inspired by
Carol
over at
In Pursuit Of Pretty Things
to write a post about high top wedge sneakers. I admit, I never was a fan of high top sneakers, much less high top
wedge
sneakers. But now they're kinda growing on me, especially after seeing this picture of Anne Hathaway.
www.inpursuitofprettythings.com
And now Jessica Alba.
www.lipstickalley.com
And a slew of other celebrities.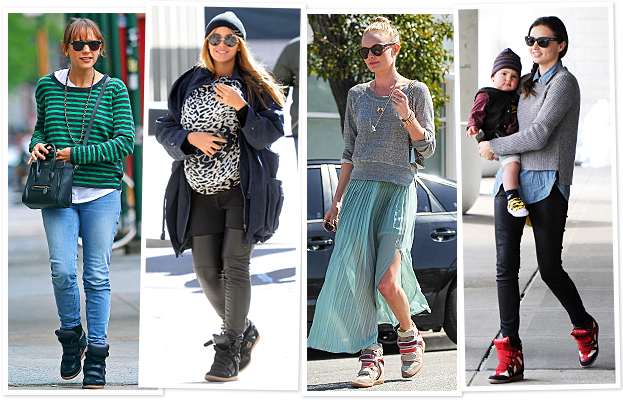 www.instyle.com
Many of these celebrities are probably wearing a pair by
Isabel Marant
, which will set you back about $650. Fortunately, there are a TON of affordable knockoffs on the market now. And probably one of the best deals can be found at your local Target (where else?)
$34.99
Item: Xhilaration Kahsha High Top Wedge Sneaker
Color: Black
Price: $34.99
Size: 7
Overall Rating: 4/5
I am, as my Mom likes to call me, a fashion victim. When it comes to trends, I pretty much jump on the fashion bandwagon right away. I mean, that's the whole point right? Fashion trends are meant to be enjoyed. Sure, there are some that I shy away from in the beginning, but eventually I'm convinced that it's something that I have to have. Case in point, these wedge sneakers. When I first saw them, I thought, "No way." But as I began seeing more people wear them and styling them with such cute outfits, I started to warm up to them. I showed a pair to my husband while we were out shopping one day and he said, "Those are hideous. You are not ghetto." Apparently, my husband will not be warming up to these shoes anytime soon.
What's great about these shoes is that they have a hidden wedge, so you get the height of heels but the comfort and laid-back style of sneakers. I was skeptical at first about how comfortable they'd be, but I was pleasantly surprised at how easy they were to wear. I tried on my usual size 7 and I'd say they fit true to size. They're easy to wear with skinnies, but I'd say these look best when you're trying to go for a tougher, menswear-inspired look (dark denim and trench coat ala Hathaway and Alba above). If you want a more girly look, try the multicolored ones seen below.
I really do like this color also, but if I do ever purchase these shoes, I'll definitely pick up the black ones as I see more styling options with those.
What do you think? High top wedge sneakers a fashion do or don't?