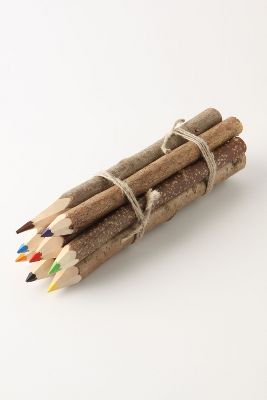 $38
A few months ago, Anthropologie sold these amazing giant colored pencils. They were so cute and whimsical (they're nearly a foot long!), my husband and I wanted them for our son
Noah
(he's still a baby, but he'll be able to use them eventually!) We waited and waited and waited and they FINALLY went on sale - $19.95 with an additional 25% off.
Now that price may still be a little high for some colored pencils that may end up being more of a decorative piece than for actual use. If that's the case for you, here's a less expensive alternative that can be found at your local T.J. Maxx, Marshalls, or Home Goods.
Branch Pencils
Set of 10
$5.99
These pencils are not quite as long (only about 7"), but they're still adorable and quite frankly, more user-friendly for a toddler.