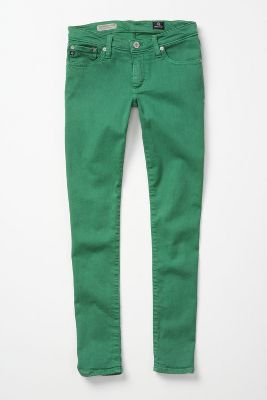 AG Stevie Ankle
$158
www.anthropologie.com

Normally, I wouldn't like such loud pants, but I really like these! I first saw them on the front cover of their catalog: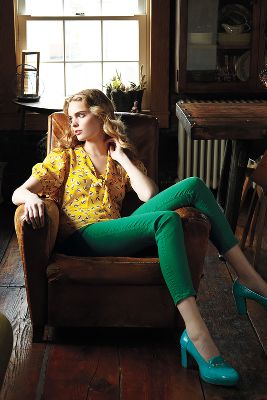 www.anthropologie.com
While this outfit is something I would not have thought to put together (green and yellow? with turquoise shoes?), I really like the way it looks - somehow the combination makes the colors seem more muted. I have tried the pants on in the store (twice), and they are the most comfy pants - they are made with 2% spandex so it adds a nice stretch. AND they are a true ankle pant. Most of the time when I try on these so-called ankle pants, they are still too long for my 5'3" height. I found that these pants fit true-to-size (for reference, I am 115 pounds, usually a size 2 in Anthropologie pants, and the 26 fit perfectly). I've already started imagining what outfits I could throw together with these pants. Even though they are kelly green, I think I can manage to pair these with many different tops and shoes. BUT at $158, it looks like I'll be waiting for a sale. I just can't justify spending that much on a GREEN pair of pants that I'm not sure how I'll feel about in 5 years (or even 5 months). I could see myself spending around that much on a pair of classic denim jeans that I'll wear for years, but these pants? No.
SO I did find a cheaper alternative at the Anthropologie sister store, Urban Outfitters. Below left are the BDG Cigarette Pants (right next to it are the AG Stevie Ankle Pants for comparison):
See? They look just alike, right? Well, I went to Urban Outfitters to try them on (twice), and they are comparable (and cheaper at only $58), but there are some slight differences. First of all, they are a polyester blend (the Stevie's are too, but I think this pair has a higher percentage), which makes them feel less like a denim pant - a bit too stretchy and more like a legging, which I don't like. And, I know in these pictures they look like the same exact color, but in person, the BDG pants are a bit brighter - the Stevie's have a more understated green (if that makes any sense). Plus, even though the BDG pants are also advertised as an "ankle" pant, they were way too long on me. I tried on the 26" waist x 30" inseam and I had to roll them up twice to make them look even close to the way they look on the model. John was with me the first time I tried them on and he said he liked them (which I was surprised about by the way. I would have thought that he'd deem them too trendy or bright), but the second time I tried them on, I liked them less because they weren't that flattering in the back. Like I said, they were more stretchy and legging-like so it showed off every tiny little ridge or bump I had, so if you are stick-figure skinny with 0% body fat, then these are the pants for you! The Stevie's were a lot more forgiving (don't get me wrong - for those of you that do know me, you know that I am by no means heavy. But I do not consider myself super skinny either - I do have a bit of meat and muscle on me). So anyway, I think the BDG pants will stay behind at the store, and I will wait for the next Anthropologie sale.