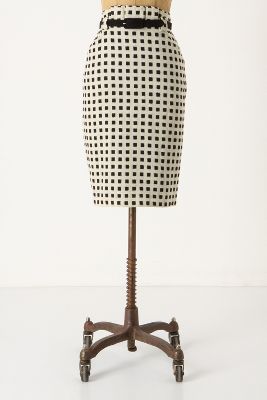 Square Study Skirt by Eva Franco
On sale $79.95 (originally $148)
www.anthropologie.com
Valerie bought this skirt a couple months ago. I remember admiring the fun, quirky squares of this skirt when she modeled it in the fitting room at Anthropologie. The fitting room attendant and I both agreed that Valerie looked great in it. Unfortunately at the time, I could not afford it myself, but I stalked this skirt online and in stores until it finally went on sale. Although I still think $79.95 is a bit steep for a skirt, I just loved it so much that I had to have it. I believe this skirt fits true to size - Valerie got her usual size 0, I got my usual size 2. The skirt has a nice stretchy lining, which hugs your curves nicely. And it has two front pockets, which are very convenient. I wore mine today for the first time at work, and I got several compliments on it. I did read the customer reviews online about this skirt (which I always do) and pretty much every person complained about the little black squares being snagged. I know you can't see it very well in this picture, but the little black squares are actually just black thread woven throughout the skirt. So today when I wore it, I made sure to be extra self-conscious to avoid any snags. Well, I put this skirt on at 6:15 am, drove to work, walked to my classroom, and by 7:30 am, there was a HUGE snag on one of the squares. Great. And this was a result of me being super careful, so I really have no idea where that snag came from. So if you have this skirt, YES, it will get snagged no matter how careful you are. It's a fact that you just have to come to terms with. I've thought about ways of preventing this, even considering spraying my skirt with hairspray like I used to do with my pantyhose to keep it from snagging, but the idea of spraying my $80 skirt was unappealing. So if any of you out there have any quick fixes or ideas, do share!
I paired my skirt with The Gathering Tank in kelly green by Deletta. I was considering wearing it with my red-orange Pilcro Soft Bands Tee, but I wasn't sure if the color-combo would look too Halloween-y.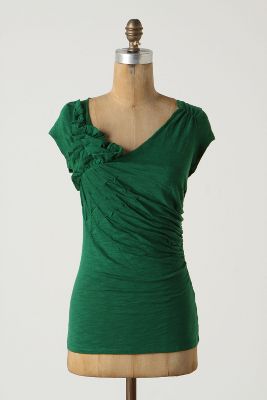 The Gathering Tank by Deletta
On sale $29.95 (originally $48)
www.anthropologie.com

I think the fun of wearing this skirt is finding different tops to pair it with. I think it would look great with lots of different colors. Red would give it a retro feel, while a dark navy blue would give it a more elegant, sophisticated look (which is how I plan on wearing it next). I think I will stick to wearing solid tops with this skirt, but if you want to sport the signature Anthropologie style, have fun and pair it with a patterned top. Or if you're not feeling quite that bold yet, then consider wearing a solid-colored top with some texture (as shown above) or an interesting detail. Here are some ideas:
On sale $39.95 (originally $78)Lundin Links Sweater by Moth
www.anthropologie.com
The neckline gives this top just enough detail to set it apart from just any old sweater.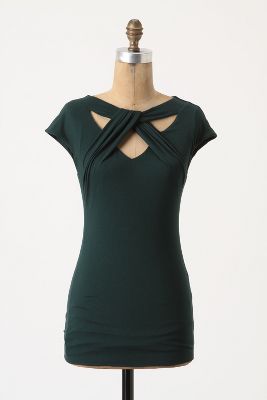 Slug Sash Tee by Bailey 44
$88
www.anthropologie.com
I like how the sexiness of the cutouts juxtaposes the sophistication of the skirt.
Erna Lace Top by BCBG
$218
www.bcbg.com
Make sure to wear this top tucked in for a more fitted look and to show off the waist details of the skirt.
Or if you're feeling really fun and bold, you can pair this skirt with a big flower sweater, as seen on Emma Pillsbury on tonight's episode of Glee!
Flower Blouse by Moschino Cheap and Chic
$650