OOOTD:
J. Crew Factory necklace
This dress is quite special to me because it was one of my first purchases from Anthropologie almost ten years ago. When I was in college, I'd often browse their website, ogling at all the wonderful pieces and wishing I could have an entire wardrobe of Anthro. When my hometown finally got its own store, I'd visit often and it was during one of my first trips there that I spotted and fell in love with this dress. It has such a fun and interesting pattern, and green is a color I love so much.
For this particular outfit, though, I decided to fold down the top portion and tuck it underneath so I could wear it as a skirt. If you've been following me for awhile and have seen my last few outfit posts, you'll know I've been obsessed with midi skirts lately. I felt like turning this dress into a skirt gave me more styling options, and now I'm actually considering altering it permanently so I can always wear it as a skirt.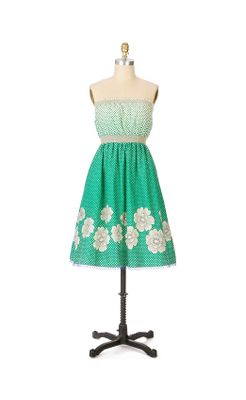 Here's what it looks like as a dress.
The hemline has such a fun blue scalloped edge, and the flowers are so pretty against the kelly green polka dot background.
I decided to pair it with this black and white top to go with the black and white flowers on the bottom. And I paired it with this necklace to pull in more of the green color of the skirt.
These Orla Blanche sandals, by the way, are some of the comfiest shoes I've ever worn, which is saying quite a lot since they do have a heel. But it's thick enough to walk comfortably in, and I have been loving the way they look with my collection of midi skirts lately.
Hope everyone has had a wonderful weekend!